left, Florence Christian, 1930
right, Florence Methodist, on Banklick Street
Elizabeth Goodridge Nestor's Florence Christian Church is here. (pdf)
Florence Christian

The above image of Florence Christian shows the church built in 1835, and eventually torn down in 1964. There was a prior log cabin, originally from 1831, but is rumored to have been burned down by "two disgruntled females."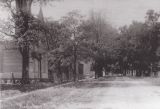 Main Street, looking south
The Presbyterian Church, on the left, was next to the
town hall. The church closed c. WWI, and the building
was sold in 1920.
Florence Methodist, by Caroline Williams, 1950
The back of this one says "Lutheran Church,
then Cinema, on Main street next to town hall"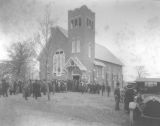 Hopeful Lutheran Dedication, November 11, 1917
| | |
| --- | --- |
| Rev. Wilford Butt's 1956 history of Hopeful Lutheran is here. (pdf) | Hopeful Lutheran's history from its 1976 anniversary booklet is here. (pdf) |
Hopeful Lutheran's stained glass.
Read about the stained glass here. (pdf)
Hopeful Lutheran
image on left is 1930

"John W. Aylor of Gunpowder once saved a great loss at Hopeful Church by
bringing a girl late to church and discovering a fire on the church roof.
Several parties tried to perform similar services at Hebron recently, but there
happened to be no fire and there was little gained." Boone County Banner, May, 1898

Original St. Paul Church
Original St. Paul Auditorium
Original St. Paul School
Second St. Paul Church

These four pictures created and posted by Ms. Ariana Spencer

Rev. Paul Ryan's history of St. Paul is here.
Mrs. Blanche Beemon's History of Florence Baptist is here. (pdf)
Florence Church of Christ
on the east side of US 42 and Weaver Road

| | |
| --- | --- |
| Ollie Cotton arrested for riding his horse too fast to church, story here. | John Uri Lloyd's Florence Pictures are here. |
| Mr. Dutton Aylor's History of St. Paul's Church is here. (pdf) | Lloyd also had many early pictures of Florence Churches, here. |