| | | | | |
| --- | --- | --- | --- | --- |
| | | | | |
| Florence Christian, 1930 | Florence Methodist, on Banklick Street | Florence Christian | | Florence Christian |
Elizabeth Goodridge Nestor's Florence Christian Church is here. (pdf)
Florence Christian published a dedication booklet in 1967 which had this piece on the history of the church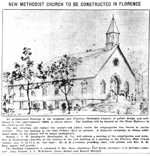 Florence Methodist, 1936


OMG! They're letting a woman preach in Florence! Here.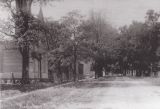 Main Street, looking south
The Presbyterian Church, on the left, was next to the town hall.
The church closed c. WWI, and the building was sold in 1920.
Grace Episcopal,
by Caroline Williams
Florence Methodist,
by Caroline Williams, 1950
The back of this one says
"Lutheran Church, then Cinema,
on Main street next to town hall."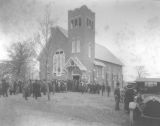 Hopeful Lutheran Dedication, November 11, 1917
Hopeful Lutheran's stained glass. Read about the stained glass here. (pdf)
Hopeful Lutheran. Image on left is 1930

"John W. Aylor of Gunpowder once saved a great loss at Hopeful Church by
bringing a girl late to church and discovering a fire on the church roof.
Several parties tried to perform similar services at Hebron recently, but there
happened to be no fire and there was little gained."
Boone County Banner
, May, 1898

Mrs. Blanche Beemon's History of Florence Baptist is here. (pdf)
Florence Church of Christ
on the east side of US 42 and Weaver Road