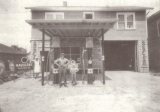 LaMonda's Milford Garage
In 1989, the Courier Journal Magazine ran a feature story on
Louis LaMonda and his service station. You can read it here.
The pictures accompanying it are the four below.
Milford Scenes
Thanks to Rodney Marsh for the above two images.
Home #175 from the Sears and Roebuck Catalog of 1913. The catalog
says there was one sold to Springerton, Illinois; Peabody, Kansas; Brush,
Colorado; and Milford, Kentucky. From $815 to $1,732.
from the August, 1916 issue of Field and Stream
Dry, dry, oh my it's dry
There ain't enough water to drown a sigh,
Tho' we're doin' fairly well right now, by Jing
But look out for the comin' Spring.
Crops are wretched and the outlook's forlorn
There's a mightly slim chance for Old King Corn,
Save your pennies and lay close to home
There's nuthin' in sight and still "dry as a bone."
Thos. Ogden, Milord, Ky.
from the Maysville Public Ledger, July 10, 1914