The Original Building of Augusta College
The First Established Methodist College in the World,
Chartered by the Kentucky Legislature, December 7,
1822; this building erected 1825, burned down in 1856.

This item about the college
appeared in the Boston Recorder
and Telegraph of Jan. 20, 1826.

The College sat in the block between Bracken and Frankfort Streets, and Third and Water (Riverside) Streets
"A reunion of the students of Augusta College will be held at Augusta on the 17th inst. This college was chartered December 7, 1823, and is said to been the first Methodist college in the world. The building was destroyed by fire, January 29, 1852, and about the same time the Legislature repealed the charter on account of the anti-slavery speeches of its president, Joseph S. Tomlinson, D. D. The orator of the day will be William H. Wadsworth LL. D, of the class of 1842." Courier Journal, November 8, 1880
(The building burned in 1852, and burned down in1856. Both dates above are correct.)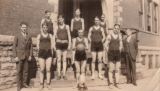 Augusta Basketball Team

c. 1906
1913
(The 1937 Flood came to the center of the first floor windows)
| | | |
| --- | --- | --- |
| | | |
| High School, Augusta | Augusta High School | Public School, Augusta |
Augusta High School, 1947

Augusta School Burns, c. 1906

We're sure it's Augusta,
but are unclear on the date
A brief look at the history of Augusta Schools is here.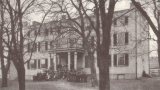 The Augusta Female College, or, after 1863, the Augusta
Male and Female College. The building was erected in the 1850's.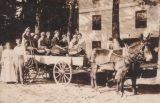 Augusta College Students???
This image is from the Bracken County Historical Society, and is among
a lot of other old Augusta items. It's presumed to be Augusta. If you can
identify it for sure, please let us know. You can email us here.
Dormitory, First Methodist College in the World, Augusta, Kentucky