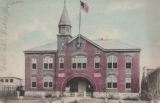 Fifth Street School, Dayton, KY 1909
Eighth Street School, Dayton, 1915
a.k.a. Dayton High School, built in 1904, it burned on January 21, 1924
Five fire departments responded, but the water hydrants were frozen.
October 18, 1911
The Dayton Basketball Team with John Wooden the second greatest college basketball coach ever.
Or, the greatest ever, for people who've never heard of Adolph Rupp.
St. Francis School, c. 1910


Dayton Independent Schools' web site is here.