Post Headquarters,
Fort Thomas
Officers Row,
Fort Thomas
Post Exchange,
Fort Thomas
| | |
| --- | --- |
| | |
| Fort Thomas Amphitheater | Tent City at the Fort |

"The price paid by the government for the new Newport (Ky.) barracks was $48,000 for 111 acres. The tract is situated about four miles from Newport. A view of twenty miles of the surrounding country is one of the attractions of the place. It is near the Ohio river and is well drained. There is sufficient ground for a rifle range. Railroad trains and steamboats pass the grounds daily. It is directly opposite the little Miami river." Indianapolis News, August 3, 1887

At Entrance of Y.M.C.A.
Building, Fort Thomas
Library at the YMCA
Inside of the Fort
Thomas YMCA, 1918
Another Y.M.C.A.
Building, Fort Thomas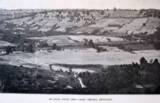 The Rifle Range for Fort Thomas
Campbell County's Rifle Range Road is so named because it's where the solders stationed
at Fort Thomas were marched for target practice.
from a Facebook post by Erik Geiman
Army YMCA, Fort Thomas
Roughly where the playground
is today at the Fort.


(Thanks to Eric Geiman for identifying the location)

A whoop-de-do at the Mess Hall,
the date and event are unknown
The Chapel
(*fun facts)
Inspection at the Barracks
Splinter City
The Mess Hall
Company Barracks
Fitting Shoes (*trivia),
New Recruits
New Brick Barracks
The New Brick Barracks
in Fort Thomas

Interior of Mess
Hall, Fort Thomas

Finance Office, Fort
Thomas, July 13, 1943
Target Practice, c. 1910

Looking west toward the domiciliary, 1946
Target practice wasn't always done at the Fort itself.
Troops were sometimes marched to a location down
on the Licking River, off Licking Pike for target practice.
Hence the name, "Rifle Range Road." Background
buildings indicate, however, that this image was
taken at the Fort.
"Hi, Honey, I thought you might like this
card for your collection as in this building
the old master eats, sleeps, and works,
Love and kisses, Eddie."
The above eight pages are all Fort Scenes from just before World War I.
Each image has captions at the bottom of it.

Cincinnati, July 18. - General Phil Sheridan was here today looking after a new site for the United States Army Barracks at Newport, Ky. He said: "Twelve sites are offered. The object is to get much more ground in a location out of the reach of the high water in the Ohio River. I shall stay here until I inspect all of the sites."
- New York Times, July 19, 1887.
Go to the second page of scenes of the Fort