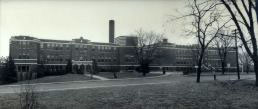 Highlands High School, January, 1954
That's the old high school on the right (same building as below) .
The current high school was built in 1937.
Thanks to Mr. John Deering, former Highlands
Principal and English teacher, for this image, and the one below

Highlands from the
South, 1935

Aerial View of High School,
and what was then the new
Middle School circa 1964

Aerial View,
1948
Highlands High School
This building was erected in 1915, and had 93 students that
first year. It served until 1962, which was the year it burned down.
The cornerstone was laid on July 25, 1914.
Highlands after the 1962 fire.
I read on Facebook that the original mascot for the school was the Highlands Blue Devil; that a local clergyman objected to the association of the community to the devil; that the boys' track team had an exceptionally good year that year; and it was remarked that they "flew like birds." This gave rise to the new name for the mascot. Can anyone verify that, or is it just an old wives tale?
Samuel Woodfill
| | | |
| --- | --- | --- |
| Fort Thomas' Woodfill Elementary School was named after Medal of Honor recipient Samuel Woodfill. A site about him is here. | The Stars and Stripes, of March 14, 1919, published Woodfill's official Medal of Honor proclamation, here. | Woodfill School's cornerstone was laid on July 22, 1922. |
Johnson Elementary is named after WWI hero Robert D. Johnson, who was killed at the Battle of Belleau on June 8, 1918.
His brother, Claude W. Johnson was the Chairman of the Board of Education at the time.
Miss Ruth Moyer
On N. Ft. Thomas Ave.,
across from Holly

Mount Vernon School
On Highland, across from Newman,
and the only school in Central
Fort Thomas until the late 1800's.

Woodfill Safety
Patrol, 1929
The first school in Fort Thomas dates back to c. 1832. Called the Mt. Pleasant School, it was a log cabin near what is now the intersection of Holly Lane and N. Ft. Thomas Avenue. Also known as the Old Buckeye School, it was used as a church on Sundays. The Baptists and Methodists alternated Sundays.
Folk Dance
Recreation Hall
Playground
St. Euphrasia's Training School, Highland Avenue, Fort Thomas, Kentucky