Colonial Theater, 943 Monmouth
Note Krogers on the right.

(Barney Kroger lived at 624 Monroe, between Sixth and Seventh, and was married at Immaculate Conception in Newport.)

The Strand, 1945
Opened in 1916, the Strand at 827 Monmouth St. in Newport was purchased by Gus Phillips in 1927 for $140,000. This was the site of Northern Kentucky's first "talking" movie, In Old Arizona, in 1929.

Dixie Chili is on the web here.

Becker Brothers Meats, 942 Monmouth, c.1930's


from a Facebook Post by Mike Becker



Gieskemeyer & Wikler's
believed to be on Monmouth
note the dog on a stretcher
Dr. Jacob and Jack Winkler's
Small Animal Hospital,
1034 Monmouth
from Facebook posts by Barbara Sparks Rawe
Read more about Raymond Lippert and his business here. (pdf)
Looking East 18th St./Neltners, November 19, 1954, to what's becoming the Newport Shopping Center
from a Facebook post by Bev Achzehner Harber
Fausz Brothers Restaurant


from Facebook posts by Louise Mcgue




from a Facebook post at Old Photos
of Northern Kentucky

The first (left, 1950) and last Frisch's at the sw corner of Monmouth & 19th. (there's a Speedway there in 2017). It was the first Frisch's in Northern Kentucky.

Menu from a Facebook post by Barbara Sparks Rawe


Frisch's robbed in 1969, by burglars who leave a very polite note.
Roughly where there's a Penn Station now, across from Walgreens.
100 years ago, across from the tollgate that stood where Walgreens is.
from a Facebook posting by Shirley Turner
John Steinhauser was a jeweler and watchmaker.
This store is believed to be at 141 Monmouth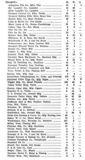 This is a list of many - not all - Newport business in 1917, and lists the number of people each employed.
from the Twenty-Second Biennial Report of the Bureau of Agriculture, Labor and Statistics of Kentucky for 1916-1917. The column marked "C" is for children

Newport Milling Co, c. 1901
1108 Monmouth



"A firm in Newport lately shipped to Boston, Mass., 50,000 feet of poplar backing for picture frames, and 75,000 feet of drawer bottom material." Courier-Journal, August 9, 1870