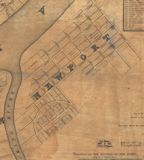 Map of Newport, 1838
from a Map of the City of Cincinnati / from actual survey by Joseph Gest, city surveyor, 1838;
engraved by Wm. Haviland. You can find the full map on the site of the Library of Congress.

The Stag Cafe Ball Team, c. 1953
Thanks to Bob Adams for this one.
Dorsal's Flour, with "Miles of Smiles"
Image on the right is a blow up of a section of the image on the left, so you can mostly read the label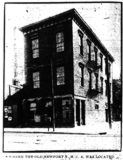 A few words from 1915 on Newport's former YMCA, here.
There was a YMCA in Newport from about 1894 to 1899.

These three are from Newport's 150th Anniversary Celebration
Play of re-enactment on the left, the parade of November 8, 1945 in the center, and that
dour looking group on the right were the celebration planners, a.k.a. The Newport-
Campbell County Sesquicentennial Commission, in session.
Helen Lindsey's account of the celebration's events is here. (pdf)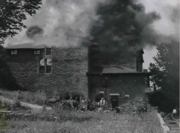 Fireman at the Reed Manufacturing Co. in Newport


"Two weekly papers have just made their appearance at Newport, the issue of one being but one week in advance of the other. The first is the Campbell County Leader, published by J. B. and A. L. Quinby, and the second is the Newport News, of which Mr. J. H. Ferris is the editor. Both, as they have come to us, are filled with much interesting local and miscellaneous reading matter, and are a substantial evidence of the growing importance and prosperity of Newport. If they should bear out the promise of their first publications they cannot fail in proving of great advantage to the local interests of the city and section." Courier-Journal, April 9, 1872


"The Newport News has suspended after the publication of two issues." Courier-Journal, April 30, 1872

And last but not least - well, maybe least - you can hear the
Cincinnati Jug Band's Newport Blues, c. 1929, here.
(big file - give it a few seconds)