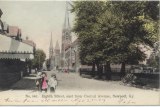 Eighth Street, East from Central, 1907
1890 - The year Newport re-named it's streets
These are all Newport, 1907
John F. Kennedy on Carothers
Road, Newport
October 7, 1960
Note steeple of St. Francis
Matchbook from Newport
Elks Lodge, 321
Washington, Newport
Looking North, across Carothers Road, at the future site of Kmart.
Newport's Dave Cowens Drive is named for the Boston Celtic Star.
You can find his official NBA biography here, and his Wikipedia entry here.
He's a member of the NBA Hall of Fame.
Damage in Newport from the 1915 Tornado
Images include:
1. Wiedemann's Baseball Field,
2. Grace Methodist Church (the before and after are on my Newport Churches page)
3. Clifton School ( larger image here),
4. Clifton
5. The L&N Bridge (notice things floating)
In 1930, the Northern Kentucky Automobile Club and the Newport Auto Dealers
Sponsored Safety Week, with Brake Tests. These three pictures are from that event.
These are the sponsoring dealers. Who are they? Here.
The Blue Line The Green Line
The July, 1926 issue of Hail Columbia, the house publication of the gas & electric company,
ran these two pictures and this article (pdf) about one man's career on the streetcars.
In 2011, the City of Newport published this handy historical tour brochure.
Yes, Virginia, there really was a railroad up the middle of Saratoga Street.
The Penn Central heads into Newport, from a post on Facebook by Derek Gillium.

The L. & N. RS3 241 heads south on Saratoga, at about Sixth in November 1961.
Alexander Mitchell posted this one to the Northern Kentucky Views Facebook page . It's from the Maryland Rail Heritage Library in Baltimore, photographed by Jim Hudson. Thanks Alexander!
"Newport, Ky., is opposite Cincinnati, on the upper side of the Lacking river. It contains a U. S. garrison, several churches, a seminary, private schools, a rolling-mill, cotton-factory, etc. Pop. about 3,500. A steam-ferry connects it with Cincinnati, the boats plying every few minutes during the day."
Appleton's Southern and Western Travelers' Guide, 1849
"Matt Cooper, of Newport, got to rehearsing some of his foul-mouthed obscenity last night, and officers Burke and Haggemann very sensibly locked him up. He is a nuisance that decent men have to submit to because he is a drunken no account brute. The privileges he is allowed only encourage him in his actions; and when he is fined and doesn't pay he should go to the stone pile as many another better man has had to do." from Covington's The Ticket, November 23, 1875.