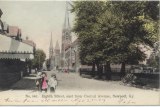 Eighth Street, East from Central, 1907

1890 - The year Newport re-named it's streets

Newport's Dave Cowens Drive is named for the Boston Celtic Star.
You can find his official NBA biography at this site, and his Wikipedia entry here.
He's a member of the NBA Hall of Fame.
Damage in Newport from the 1915 Tornado
Images include:
1. Wiedemann's Baseball Field, 2. Grace Methodist Church
3. Clifton School ( larger image here), 4. Clifton
5. The L&N Bridge (notice things floating)

In 1930, the Northern Kentucky Automobile Club and the Newport Auto Dealers
Sponsored Safety Week, with Brake Tests. These three pictures are from that event.
These are the sponsoring dealers. Who are they? Here.

| | |
| --- | --- |
| | |
| The Blue Line | The Green Line |
The July, 1926 issue of Hail Columbia, the house publication of the gas & electric company,
ran these two pictures and this article (pdf) about one man's career on the streetcars.

In 2011, the City of Newport published this handy historical tour brochure.