January 30, 1918
That's the steamer Princess on the left, the Eugene Dana Smith in the center, and the Success, caught
at the mouth of the Kentucky, during the great ice of 1917-18. The picture on the left was taken
just several minutes after the one in the center; the pic on the right is the boat in the
accompanying story, but was not taken at Carrollton. More details here.

The Loucinda served the Louisville-Madison-Cincinnati route c. 1910-1918.
Her name was derived from: LOUisville, CINcinnati and inDianA

"The steamer J. C. Kerr is now running between Cincinnati and Carrollton, Ky., having quit the Ripley trade."
from the Daily Evening Bulletin, Maysville, Kentucky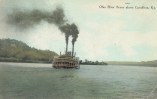 Steamer on Ohio River above Carrollton, 1909

The Ben Franklin, at Cincinnati
"As soon as there is sufficient water in the river, the Telegraph No. 2 and Ben. Franklin
will assume their places in the morning line, under their old commanders, and the General Pike,
Capt. Claxon, and the Lady Pike in the evening line. They will leave Cincinnati and Louisville at
9 o'clock, A.M. and 4 o'clock P.M. each day."

"The [General] Buell is now in the packet trade from Madison to Cincinnati. The [Ben] Franklin and the [General]
Lytle are the mailboats, but from the present indications, these boats will not be of much use this weather.
from an October,1872 newspaper clipping; which paper and exact date are unknown.


A page of steamboat links can be found at this site.