Watermelon Eating Contest. Entrants here.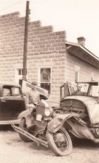 "In 1877, Martin H. Phipps, a well-to-do farmer of Gallatin County, Ky., almost insane because of a wayward daughter, left his home and family, determined to be a wanderer the remainder of his life. His family made every effort to ascertain his whereabouts, but were unsuccessful and gave him up for dead. A few days ago his son, still residing on the old farm with his mother, saw in the daily paper that M. H. Phipps of Shelbyville, Ill., had been allowed a pension as a Mexican veteran. He arrived here yesterday and found his long-lost father an inmate of the poorhouse. Phipps is now 77 years of age." St. Louis Post-Dispatch, June 12, 1888
This is Lucy Dupuy Montz, Kentucky's first woman dentist. A short bio is here.
Dr. Carl Bogardus wrote a longer piece, and you can read that here. (pdf)
Warsaw's Jim Blackburn was in the major leagues. His record is at a site at this site.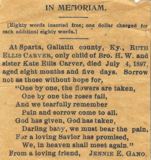 Jennie Gano's poem on the death of Sparta's Ruth Ellis Carver
Going to the court house to see and hear people make excuses to try to get out of jury
duty with Judge Yager was, literally, a spectator sport in Gallatin County.
Excusing people from jury duty wasn't something the good judge took kindly to, though
he dealt with it with great aplomb; word is, it was a sight to behold.

Judge Yager's piece from the1930 Boone County Recorder Historical Edition is here.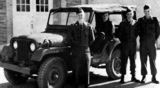 Seniors in the Army Reserve. 1956-57
Tommy Duncan, Douglas Sharon, Jimmy Harmon, Hardin Lowe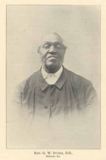 Rev. G. W. Dupee
born in Gallatin County, his bio is here.

Death of Henry Johnson, Warsaw Barber, here.