Lock and Dam #39 was one of the original series of dams on the Ohio from before
WWII. It was located at virtually the same location as Markland Dam is now.
More on this earlier series of Ohio River locks and dams is here.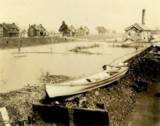 The Indiana side, March 24, 1933. The river's at 53.2 feet, i.e., flooding.
The following are all from the Facebook page of the Switzerland County Historical Society