The Telestar Motel, West of Dry Ridge on Rt. 22, 1967
(Think 100 years from now somebody's going to look at these and think of the good old days?)

In 1956, Dry Ridge changed it's name, very briefly, to North Williamstown. More here.


Citizens Bank, 1977
Banker B. C. Cotton
Citizens Bank of Dry Ridge
You can read about the dedication of this building, in 1928, here.
Dry Ridge Post Office
Grant County High School
Chuck Hall identified the people in the image on the left, here.
Southbound for Chattanooga, 22 train cars derail, blocking Knoxville Road

Dry Ridge Auto Co.,
1959

Rash's Food Market,
Dry Ridge, 1959

The Little Shrimp,
1977
The Little Shrimp,
1962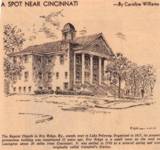 Caroline Williams' sketch of Dry Ridge Baptist Church