The Erlanger - Fort Mitchell Bus
Hoffman's Tourist Court, 1522 Dixie Highway, Park Hills
Fort Mitchell Baptist Church,
1956
St. Agnes, Ft. Wright,
c. 1930
Church of the Blessed Sacrament, South Fort Mitchell
Blessed Sacrament's web site is here.


The Rev. Paul Ryan's 1953  history of Blessed Sacrament is here.

What started out as the Dixie Tea Room (left) later became the Greyhound Grill at then end
of the trolley line. You know it as the Greyhound Tavern. You can read the history of the
Greyhound - and their menu - at their site: here. These two pics are from that site.
The Hearthstone Restaurant
2053 Dixie Highway,
Ft. Mitchell, Ky.
Routes 25 & 42, 2 Miles South of Cincinnati
Luncheon - Dinner - Cocktails
Tel. HE-8597 - Private Parties - Air Conditioned
Fort Mitchell Motel
2099 Dixie Highway U.S 25 & 42
COVINGTON, KENTUCKY
3 1/2 miles from Cincinnati, Ohio
Air Conditioned, Hot Water heat,
Tile Baths, Television, Quiet - Rest Assured.
Phone ED, 1-2770
Mr. & Mrs. James C. Hughes
Howard Johnson's Restaurant Adjoining
Frisch's in Fort Mitchell. That's
the Greyhound Grill to the left,
c. 1960. from a the Facebook wall of
Old Photos of Northern Kentucky
How did the Monte Casino
Chapel get from Covington
to Thomas More? On a
truck, thru Fort Mitchell.
May 7, 1965
Looking north, at Dixie
and Beechwood Road.
Looking south at roughly
Dixie and Rivard.
Both from the Gilliam Collection, Eva G. Farris Special Collections, W. Frank Steely Library, Northern Kentucky University.
A Northern Kentucky Business brings in $50,000 a year. In 1917. Raising goldfish.
Kenton County as America's goldfish capital? Yup. Story's here.
The ponds were where they later built the Dixie Gardens Drive In.
Dixie Highway - that's
Kyles Lane turning right
beyond the houses.
Dixie Highway - that's
Kyles Lane turning right
beyond the Fort
Mitchell Garage.
Fort Mitchell Garage
left, 1948 and right, 1922
The above four pictures are from the Fall-Winter 2006 issue of Northern Kentucky Heritage,
which contains many more pictures from the Joseph Kuchle Family albums.
Video of the Roger Kuchle Garage shortly before it was torn down.
Chuck Eilerman put some nice footage of the trolley in Fort Mitchell on YouTube
Entrance to Highland
Cemetery, 1912

Entrance to St. Mary
Cemetery,

Fort Mitchell's first cemetery was St. Johns, which opened in 1867. Highland opened in 1869, and St. Mary's in 1870. St Mary's had an an earlier location in Devou Park. Why two Catholic cemetery's? One for the German Catholic (St John's) and one for the Irish Catholic (St. Mary's).
The Cincinnati, Newport, & Covington, coming towards Fort Mitchell, in Park Hills, 1946.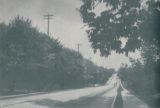 The caption on this one says "Scene on US 25/42 near Covington"
We think it's looking north, with Turkeyfoot Road on the left.
Thanks to Lt. Barry Martin and Tyler Schmidt for help in identifying the location
We believe this is the same
scene as above. Sorry for
the picture quality.
We believe this, too, is the
same scene. 1916
Venthaven
Visit Venthaven on-line here.
St. John's Orphanage
On Orphanage Road, originally organized in 1850 in Covington.
 At the time of this picture, c. 1950, there were 118 boys and girls, from 2-18 years
old under the supervision of a Chaplain and 12 Nuns
| | |
| --- | --- |
| | |
| Ft. Mitchell Holidome | The Cincinnati Rowntowner Inn, Fort Mitchell featuring the Crossbow Taverne Lounge, c. 1971 |
"The Drawbridge Estate includes 505 guest rooms, three diverse restaurants and lounges,
three pools (one indoor heated), tennis courts, health and fitness facility, children's play area
and video arcade. The Oldenberg Brewery and Entertainment Complex is located
adjacent to the Drawbridge Estate."
The web site showing Drawbridge scenes thru the years is here.
Robertson's - across from the Highland Cemetery
Color film of the Fort Mitchell Trolley!

The City of Fort Mitchell was incorporated on Valentine's Day in 1910
Long-time Fort Mitchell area resident August Hauer remembered the Civil War; his 1943 interview - he was 84 - is here.
"A new civic group will spearhead the battle of Ft. Mitchell's citizens against the proposed Greater Cincinnati Airport Highway. Property owners contend that the express highway would reduce property values and cut the community in half. According to reports at the meeting, about 13 persons would be "punished" by having the high way cut across or cut through their property." Cincinnati Enquirer, April 5, 1949
Retschulte's operated a restaurant on the south-western corner of Dixie and Turkeyfoot under a variety of names. Originally the Five Mile House, its name was changed in 1921 to Dixie Inn, but later changed to just Retschulte's, the proprietor's name. It later became Barleycorns.
You can read Mr. John R. Blakely's The Early History and Development of Ft. Mitchell, a paper presented top the Gist Historical Society, here.

(pdf)

Park Hills incorporated as a real city on June 28, 1927.
The Official Ft. Mitchell Page is here.
Fort Mitchell auto registrations from 1910 are here.