Covered Bridge at Lewisburg, 1925

This bridge over the North Fork of the Licking on old Route 10 was replaced in 1940. It was built just after the Civil War to replace an earlier covered bridge that was burned in the war.

Dixon Pike over the North Fork of the Licking. Replaced
by a steel bridge in 1947.
Moransburg Covered Bridge,
replaced in 1947
Photographed by J. Winston Coleman in 1942.
On Kentucky 10, over Lawrence Creek at
Moransburg. Built in 1832 by Lewis Wernwag


Old Cannon Bridge, taking Mt.
Carmel Pike over the North Fork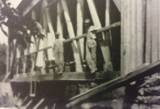 Wedonia Bridge
Under repair by the L. S. Bowers Bridge Co.
Wells Fork Bridge,
January, 1837
from the Facebook page
of Kentucky's Covered Bridges

Ripley Ferry Pike over
Lawrence Creek
Spanning the Licking at
Murphysburg until 1930
Old US 68 over Lee's Creek, replaced in 1925.
Note the advertisements painted on the beams.
Licking River Bridge, Maysville-
Lexington Road, c. 1927

Covered Bridge on Route 10, Moransburg
(The ladies are Nancy Darlene Maupin
Vaught & Dorothy Maupin Hampton)
The Valley Pike Covered Bridge
More details on the bridge can be found at this site.
There is a Tangletown on KY 616 in Mason Co near the Bracken line,
but this Tangletown Bridge is 8 miles away at Lewisburg.


For lots more info on Kentucky Covered bridges, we suggest a Facebook page called
Kentucky's Covered Bridges - A Baker's Dozen, the source of several of the above pics.