Shannon Methodist, Mayslick
History of Shannon Methodist is here. (pdf)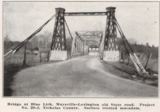 Yeah, Yeah, it's Nicholas County . . . 1929.
I thought if you're looking at Mays Lick, you'd like it.

For the record, I have no idea whether it's "May's Lick" (possessive); "Mays Lick,"
(two words, not possessive); or Mayslick," (one word). It depends on who's writing it,
what the context is, and the year in which they were writing it. I generally follow the
usage of whatever I'm quoting.