| | | |
| --- | --- | --- |
| | | |
| The Union, March 18, 1814 | | Republican Auxiliary, 1807 |
| | | | |
| --- | --- | --- | --- |
| | | | |
| | | | |
| Vendue (Auction) from 1807 | Goods | Notice | Travellers' Rest |
Two very old newspaper mastheads, published in Washington, and some items from them.
Do you understand how early 1807 is in our history??? More here.
A more recent, more comprehensive version of this plat is here. (pdf)

Cedar Hill, Home of Col. L. B. Goggin, Washington
A little more information on Cedar Hill is here.
Cedar Hill, Washington, Kentucky. Summer, 1945

There's a brief bio of General Johnston at this site, (Wikipedia) and a piece
about his most famous Civil War Battle - Shiloh - at this site. (Wikipedia)
Google will give you hundreds more sites about both.
DO NOT miss a remarkable obituary of Gen. Johnson, here.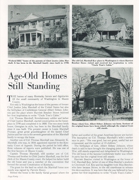 The magazine In Kentucky ran a feature on the homes of Washington.
| | |
| --- | --- |
| | |
| Wm. R. Gill Farm, 1876 | C. R. Collins Home, 1876 |


Court House in Washington,
"where Harriet Beecher Stowe saw an old colored man sold and whom she named Uncle Tom."
This building was hit by lightning on August 13, 1909, and was not rebuilt.

A history of this building, by Ms. Lula Reed Boss is here. (pdf)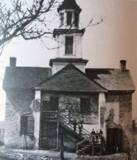 Old Court house from the back

You can find a remarkable number of Washington Images at the Library of
Congress' American Memory Site. Start here, and click on the Browse By Place link
on the left. You can look for Kentucky, and Mason County at that point.


A sincere question for the good citizens of Washington.