Butler, December 14, 1912


from a Facebook post by Jackie Vaughn

Butler Aerial View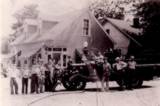 Butler Fire Department
from a Facebook post by Toots Adams
"On the 13th inst., at Butler, a [baseball] match game was played between the Red Jackets, of Foster, Ky., and the Larks, of Butler, Ky. The rain ended the game at the seventh inning. Score: Larks, 72; Red Jackets, 37." Cincinnati Enquirer, August 16, 1870

Jno. W. Peoples Dry Goods is on the left (caskets available upstairs),
The telephone exchange was in the business on the right, and
that's Edna Pettit in the doorway of her millinery in the center.
Same Scene as above


from Facebook posts by Jim Deaton (left) and Denny Lipscombe (right)
| | | |
| --- | --- | --- |
| | | |
| C. B. Stith | C. B. Peoples | Moore and Thomas |
Front and Matilda Streets, Butler Kentucky
1997 Flood
Thanks to Greg Justice for this one

Montgomery's Filling Station , Restaurant and Grocery on US 27
Thanks for some of the above images to Janet Costigan.
Butler Garage


from a Facebook posting by Buck McClanahan

Butler Deposit Bank
Established October 3. 1892.
New Bank coming to Butler? Read more here.

"Ten of fifteen thousand logs arrived at the Boston boom during the recent rise in the Licking. This will insure
two or three months' work for the villagers." Courier-Journal, July 14, 1876, quoting the Falmouth Independent

At Boston, Kentucky, the booms of the Licking River Lumber Company were broken by the sudden
rise in the Licking, and from one thousand to fifteen bundled logs were washed away. A rise of
twenty-three feet at the headwaters of the Licking was reported yesterday.
Sacramento Daily Union, Volume 46, Number 7093, 27 December 1873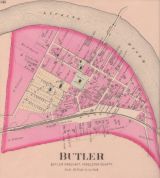 Butler, 1883
A potential, but never realized, site for a national armory at Butler.
December 18, 1827 - that's old, folks.


from a Buck Seibert Facebook post