Fair Scenes, c. 1952
"Friday, Clyde Coleman, of Falmouth, was killed at the Falmouth Fair; he had 50 cents bet on the horse that won; he stepped on the track and the third place horse struck him in the back and killed him." From the Williamstown Courier, October 3,1907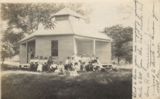 Scene at the Fairground
This ad is from Billboard, August 17, 1946
"Any show except girl and snake"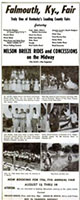 Another Billboard ad, from November 26. 1955
That's Jodi Chapman, left, with the Overall 4-H Reserve Showman, at
the 1988 Pendleton County Fair, with a purchaser from Northern Kentucky
Bank and Trust of Alexandria. The bank paid $1.30 a pound for the 1178 lb. steer.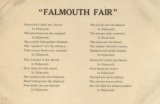 Poem on the Falmouth Fair
back to the top
back to Pendleton County Page
contact me
copyright