1917 Carrollton Sophomore Girls Basketball Team.
The coach is John Way (1889-1975)
From a Facebook post by Bill Davis


The Carroll Seminary
The Carroll Seminary was preceded at its location by the
Gallatin Academy and was followed by the Carrollton
High School and the current Carroll County Middle School.
Thanks to Bill Davis for this one.
This letter from 1851 discusses Carrollton schools back to 1826.

The old school comes down
From a Facebook post by Bob Marlette
This school burns in 1946, story here.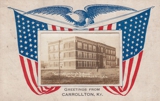 Carrollton High School
Carroll County Memorial Recreation Center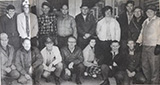 Carroll County bus drivers, unknown year. Name key.
From a Facebook post by Vicki Perkins Marsh

The entire 1946-47 Carrollton High School Yearbook is here (pdf).
Shout out to Ghent's Bill Davis, whose scanner had a workout on this one.
History of the Carroll County Schools, here. (pdf)