Glen Schmidt's, Newport
18 East Fifth Street
Glenn Schmidt's Menu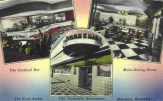 The Yorkshire Club
518 York Street
The Yorkshire Club's profit statement is here, originally
published in the Kefauver Committee Report in 1951.

Know about Campbell County Sheriff candidate George Ratterman being
photographed with half clothed stripper named April Flowers?!? It's the single
most defining moment in Newport history. Read the Kentucky Post's story, here.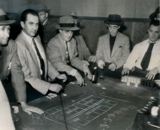 Gambler's at the Hy-Dee-Ho Club, December 15, 1951,
before they figured out there was a raid in progress.
An AP wire photo, from the Kentucky State Police
Latin Quarter Menu
The Latin Quarter
earlier, the Primrose Club
10 Licking Pike
In the 19th century, it was a slaughterhouse and meat packing plant.

A candy store across the street from the 9th street school had a penny slot machine.

Stepin Fetchit plays Newport's Galaxy Club

The Gladiator Restaurant
at Third and York in Newport, Kentucky Offers the best
of a variety of fine foods at reasonable prices. Our appetizing
food is available 24 hours a day.
Additionally, the Gladiator has nightly entertainment from
9:00 pm until 3:00 am No minimum or over charge.
Meet your Friends at the Gladiator.
Phone 291-1112.

Before George Ratterman ran for Campbell Co Sheriff,
he was a quarterback at Notre Dame, and for the Cleveland Browns.


In September of 2004, the Kentucky Post ran a
three part story on the history of Newport.
Here's part 1, part 2, and part 3 .

Aerial View with key to selected night spots, 1959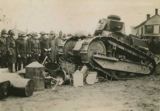 US Troops destroy stills in Newport, Kentucky, Feb. 21, 1922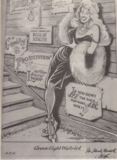 Hugh Hayne cartoon from the Louisville Courier-Journal, February 19, 1961

Highly recommended is "Sin City Revisited: A Case Study of the Official Sanctioning of Organized
Crime in an 'Open City'" from Eastern Kentucky University, a more scholarly treatment, here.