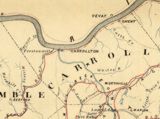 1866 Carroll County Railroad Proposals
You'll want a key to all those red lines on the map. It's here.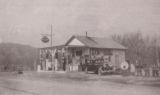 The Kentucky Explorer ran this picture and identified it as
"somewhere in Carroll County." If you can come up with a more definitive
location, please let me know. You can email us by clicking here.
St. Peter's Lutheran Church, circa 1910, Hunter's Bottom
The above two images are from Trimble County Heritage, 1989.
A few words on the history of this church are here.

The 50 or so men from Hunters Bottom that joined Civil War forces called themselves the Invincibles. Their story is here.

(pdf)

"Gold has been found in paying quantities on the farm of John Obertata, in Hunters Bottom, a few miles below Carrollton. Eastern parties have been assaying specimens and their report is so favorable that work in mining the product will begin at once." The Owenton News-Herald, April 20, 1905
Edmund Prince arrested for aiding slaves escape from Hunter's Bottom. Here.

A. T(J?). Walters Feed and Grist Mill
Carson, Kentucky
M. H. Coleman, c. 1910
Carson, Kentucky

The town of Carson, which existed before I-71 construction eliminated it, was originally named Bramblett, but when they tried to establish a post office, they found there was already a Kentucky town named Bramblett, in Nicholas County. Hence the name Carson.

Rural Carroll County
The Lewis Sanders Home
at the southeast corner of I-71 and the Ghent-Eagle Station Road

Read more about Lewis Sanders here.
McCool's Creek Park, 1944
The Best Show of Fat Cattle at the 1931 Bourbon Stock Yards
were shown by these Carroll Countians.

History of the Bramblett Baptist Church is here.
A correspondent describes Locust, in a two part article from 1885.
Part 1 is here and part 2 is here.

(pdf's)

"Last Saturday night the store at Eagle Station belonging to Joseph Sams was entirely consumed by fire. We understand there was about $2,600 worth of goods on which there is about $1,400 insurance." the Maysville Republican, March 4, 1876, quoting the Carrollton Independent
About Eagle Station before it declined, here.
A 1905 fire in Eagle Station is reported here.
"One of the most interesting of Kentucky meteorites and the one which has the reputation of being the finest and most beautiful pallasite

(Wikipedia)

, was found near Eagle Station, Carroll County. The main mass is now in Natur Historishe Museum in Vienna and efforts to obtain a piece of it were fruitless after the Nazis took over Vienna." Louisville Courier-Journal, September 1, 1940