If you're not familiar with what Newport Barracks was, there's a short
description of it, on Wikipedia, that will help, here.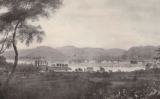 View of the Barracks, c 1830's
Layout and Description of the Barracks
The steamer Bostona ties up at Newport Barracks
The steamer headed south down the Licking is the
Golden Rule, that's the Barracks in the background
Newport Barracks, 1883 Flood

Cincinnati, Ohio from the Newport Barracks
from a stereoview card, circa 1885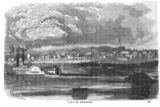 Ele Bowen cruised down the Ohio in 1855, and kept a detailed journal of places he passed. This is his
drawing of Newport. You can read his Rambles in the Path of the Steam-Horse in its entirety at Google Books.
Mouth of the Licking, with Newport Barracks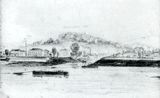 An older litho of the Barracks