Bracken County, 1889


The Bracken County Historical Society's site is here.


On September 1, 1870, the Post Office Department
listed these towns in Bracken County as having
Post Offices: Augusta, Berlin, Bradford, Brooksville,
Browningsville, Foster, Harmon, Locust Mills, and Powersville.

Cigar factory ad from the Gazetteer
"The Maysville (Ky) Post understands from reliable authority that an extensive
and productive mine of silver ore has been discovered on the lands of Mr.
Dorn, in Bracken County. It is now being worked with great success"
The New York Times, November 7, 1851
Ferry from Chilo, Ohio to Bradford, Kentucky
(or, I've also seen it listed as the Ripley Ferry)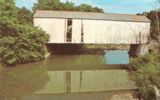 Walcott Covered Bridge, a.k.a. The White Bridge
On Rt. 1159, originally built c. 1835.
Brief Histories of Bracken Communities from 1939:
This list of Bracken County deaths from WWII is from
the site of the National Archives. There's a key to what the
various abbreviations mean here, and the actual list is here.
The WWI list is here.
You can get information on Bracken County ancestors by subscribing
to the mailing list created for that purpose. You'll get periodic
information, and can submit your own questions, all via email.
Sign up at this site for Bracken County.
This site has a list of all available lists on Kentucky.
Map of Primary Underground RR Routes
Two Major League Baseball Players came from Bracken County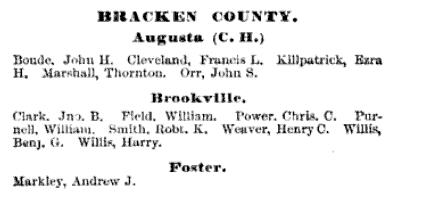 from Trows Legal Directory of Lawyers in the United States, 1875
Additional Links that apply to all of Northern Kentucky Views, and may or may not
be related to Bracken County, are on the main Links & Miscellany page, here.